The British Columbia has an efficient transportation network. The country has invested more than $3.6 billion over three years which has resulted in great development and advantage to the country. The integrated airlines, marine ports and major roads of the country make quick connections possible for the country. The marine transportation of West Canada and British Columbia play a vital role in the export and import business because the major British Columbian ports are the shortest way of transportation between North America and Asia.
The Vancouver port, Prince Rupert Port and the port of Stewart are some of the major ports on West Canada.
Port Vancouver- The Investor's Hub
Port Vancouver is the largest seaport of Canada with 28 major Cargo terminals that are connected to more than 160 major economies of the world. The port trades for more than 184 billion dollars and is connected to three class1 railway lines and many major highways. The deep sea terminals of the port offer post-Panamax and on-dock rail facilities that provide integrated services to short sea shipping industries, forest industries, and automobile factories etc. The port also serves as a home port to the famous cruise called Vancouver Alaska where every year a huge number of tourists visit and enjoy the weather of the cruise.
Port Prince Rupert: The Key Driver Of Shipments To Asia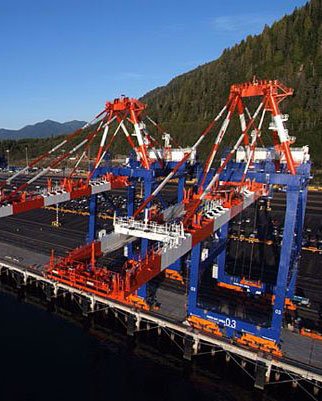 Port of Prince Rupert
In addition to all of this, the port of Prince Rupert is the deepest natural harbor of Canada which is also the closest Bulk and container facility provider to Asia. The country has started many import and export businesses in many sectors including bulk materials, agriculture, and media. The ports have 95% contribution in the total trade of the country and have the support of many organizations. The ports and harbors of Canada are integral to the whole transportation business and contribute more than 200 million dollars to the country capital. The Canadian ports have offered more than 96,000 jobs in the British Columbia and this how they are contributing a lot to the country's development.
Ports and Harbors of Canada
Therefore, the Marine transportation has become the most important part of the Canadian development and contributes a lot to the country's wellbeing. The ports are associated with many trucking organizations that help in transportation to become easier and faster. The marine transportation business is made easier with the help of the connected railway tracks and highways so that there is no delay in the work and efficiency is also maintained. Hence, the marine transportation business is a major part of the development of country business and helps Canada in getting closer to the other parts of the world.